The new Teaser is up: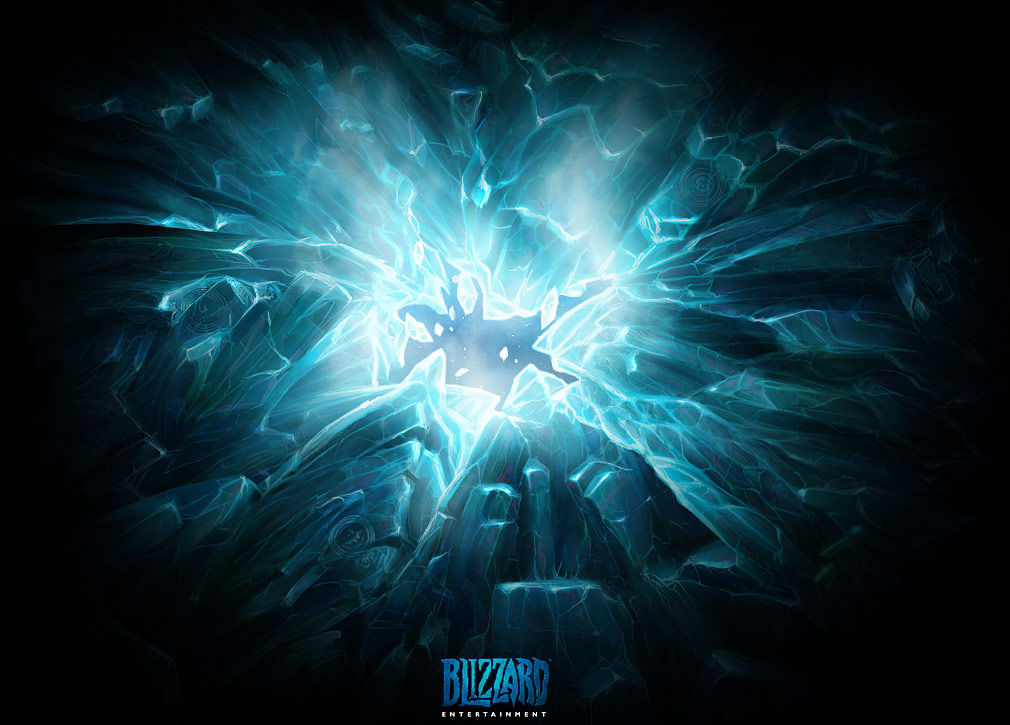 At a glance, the ice has been broken through to what looks like clear sky beyond.

Lets get down to business. First off, the Rune:




Damn. Well, this doesn't look like any D2 Rune I ever saw. In fact, it looks like a:


Protoss Race insignia for Starcraft2.

Next, the .css File. Today's word is Icy (to go with Yesterdays Cavern and Monday's Tundra). No help there deciding what it is. Finally, the hidden Jpg is /_images/23.jpg, which
does not fit with the Diablofans Theory
. So far we have D.O. and W.
So, once again it's back to the drawing board. With the new Protoss Rune in Icy3 the identity of the Rune in Icy1 is back up for grabs between a Diablo2 Shael and one of the Runes from Frostmourne. As of right now, the prediction of
what will be announced at the WWI is still well and truly up for grabs
.
Bump-Edit: There will be a game at WWI:
Gamesindustry.biz
Blizzard to unveil new title at Worldwide Invitational?

Ahead of this weekend's Blizzard Worldwide Invitational in Paris the frenzy of speculation around what the company's "big news" would be has increased further with the VP of design, Rob Pardo, hinting that it might be a new title.

In a question and answer session that concluded this year's GDC Paris, Pardo was asked directly if he could talk more about "the new game" that rumours have strongly suggested will be Diablo 3.

"So you want me to announce the game before our announcement?" he said. "No offense, but I think there's like 300 people here, and I'll be ripped apart by 8000 people there [at the Invitational] if I pre-announce it - but it's going to be really exciting. I think everybody here will be really excited about the announcement."

Blizzard is currently hard at work on the next expansion to World of Warcraft, as well as the next instalment in the Starcraft series. The Diablo franchise, for which the last title was released in 2000, is the other main entry in Blizzard's IP log and fans have been clamouring for a new game in the series for some time.

http://www.gamesindustry.biz/articles/blizzard-to-unveil-new-title-at-worldwide-invitational
There's also
this announcement from Xfire
of a new game being unveiled. More info should be released by them on the 27th.
EDIT1:
My first go at what the Mash-up of the 'hidden' images should look like so far. I've elected not to put in dividing lines so you can see just how well they line up.
Dixx at
Diabloii.net
makes a very good point if we assume that the Rune from Day 1 was a rune from Frostmourne:
So the runes have lined up with the franchises in the order in which they were initially released to the gaming world. The teasers leading up to SC2 had a historical order of games sequence to them. Perhaps these teasers are for the announcement of the as yet unannounced new IP that Blizzard is working on... they're going in chronological order through their major IP's and the next clues will be things we can't find a reference for, because they are associated with a project we as of yet know nothing about.
So, perhaps tomorrow we will see another symbol referring to Warcraft?
EDIT2:
Interesting:
Supposedly it's a front page advertising the WW Invitational, hurriedly taken down from wow-europe.com. There's a fairly reasonable chance that this is innocuous or fake, but crucially it features Diablo at a time and in an event where you'd be thinking that Wrath and SC2 would be their only focus. If it hasn't been faked it's definitely food for thought. They're also pimping Diablo 2 on the
WWI08 Official Site
, a curious decision considering its age.